World's premiere on Rally Bohemia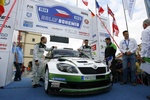 The 40th Rally Bohemia started off Friday night and after initial special stage Václav Pech jr. was the fastest. Mladá Boleslav was also the place of world's premiere of a new car.
The first crew to cross the starting ramp of the 40th Rally Bohemia on Friday at 18:00 was Jan Kopecký with Pavel Dresler driving in Škoda Fabia S2000. The fastest crew after special stage 1 of the jubilee Rally Bohemia was Václav Pech jr. with Petr Uhel driving in MINI John Cooper Works S2000. They achieved time of 1,5 second faster than the crew of factory's team Škoda Motorsport. Third place belongs to Jaromír Tarabus with Daniel Trunkát, who made a wonderfull start into this demanding rally.
Mladá Boleslav was also the place of world's premiere of new Ford Fiesta R5, which is set into action for the very first time in official race. This car driven by Jan Sýkora – Martina Škardová represents the first car of a new category R5, which is supposed to replace cars of S2000 category. It is pushed by four-valve over-charged engine with the volume of 1.6 L. 40th Rally Bohemia is very proud to have this opportunity to introduce Ford Fiesta R5 in Mladá Boleslav. At the same time the Organization Committee of Rally Bohemia congratulates to Martina Škardová, who celebrates her birthday today.
40th Rally Bohemia carries on with its leg 1 on Saturday 13th July, when competitive cars will pass through 12 special stages covering almost 110 kilometres. Special stages will draw spectators to the regions of Jablonec n. N., Turnov and Mladá Boleslav. The final special stage of leg 1 is spectators' special stage in Sosnová near Česká Lípa named Parallel Autodrome Show. Let's remind that 15 minutes after the starting field of European Cup cars from Rally Bohemia Legend group will drive. It's definitely worth waiting.