The Rally Bohemia finished – Škoda is the winner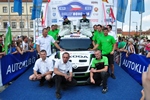 The 40th Rally Bohemia has in Sunday's afternoon reached its successful finish. The victory belongs to the factory's Škoda Motorsport crew Jan Kopecký – Pavel Dresler.
The first to cross the starting ramp at the Old Town's Square in Mladá Boleslav on Sunday afternoon was the factory's Škoda Motorsport crew Jan Kopecký – Pavel Dresler driving in Škoda Fabia S2000. Kopecký with Dresler managed to win the local competition with head start of 26.3 seconds before the crew of EurOil-Invelt team composed of Václav Pech jr. – Petr Uhel driving in MINI John Cooper Works S2000. Pech with Uhel are currently in the lead of local championship. The public's favourite, Roman Kresta, finished third. The driver, who is bond to Mladá Boleslav with his history as a member of factory's team Škoda Motorsport. Roman Kresta and Petr Gross from Adell Mogul Racing Team driving in Škoda Fabia S2000 were slower behind Pech and Uhel by 9.4 seconds.
The final of 40th Rally Bohemia, event of FIA European Rally Cup (coefficient 10) and Mediasport International Rally Championship of the Czech Republic, has got dramatic due to the crash of the crew Jan Sýkora – Martina Škardová in Ford Fiesta R5 driving fourth. Regarding the suspicion about co-driver's injury emergency service has arrived and special stage has been cancelled for other crews. Co-driver Martina Škardová has been taken into hospital for medical check and fortunately her wounds turned out to be only minor.
The category 2WD on 40th Rally Bohemia has been won as a premiere by Jiří Vrkoslav – Jiří Rada in Citroën C2 S1600. Second place belongs to Egon Smékal – Monika Hýbnerová in Citroën DS3 R3T. After big fight the third place was taken by Italians Elwis Chentre – Igor D'Herin in Škoda Fabia R2.
The smooth run of 40th Rally Bohemia wasn't disturbed by any security incident and according to organizer's information and also from the police spectators behaved well and followed organizers' instructions. Sunny weather has drawn tens of thousands of them to line up along the track of special stages.
Jan Kopecký, the winner of Rally Bohemia: "We feel great. Škoda Fabia S2000 is the best car in its category and thanks to it we have some advantage against other competitors. The competition was organized very well and in terms of security precautions there was nothing wrong. Perhaps I would give a thought to the spectators' SS in Sosnová to make it more attractive for spectators for even better experience. All in all Rally Bohemia was very good competition and the small differences among first three only prove it. We drove on full throttle all the way through finish and have enjoyed the competition."
Václav Pech jr., second on Rally Bohemia: "I'm very satisfied. Finishing second in Rally Bohemia with the loss of 26 seconds behind the winner of factory's team is just great. I was getting used to new tyres quite a long time, but I think we have performed very balanced fight. Beating Roman Kresta on Rally Bohemia, who holds the record of number of victories, is of a great value to me. Our car worked with no problems throughout the competition and I want to thank our mechanics for that. Spectators created a wonderful background and I haven't seen standing any in dangerous situations. At the same time I think that they wasn't standing too far from the track and had a very good view over it. The organization of the rally was flawless except only one wrongly put speed calming chicane at SS Sychrov, which I hit. We have lost a few seconds there. Every rally should in terms of organization look like Rally Bohemia."
Roman Kresta, third on Rally Bohemia: "Rally Bohemia is a wonderful race for us. Wonderful stages, which don't have competitor. There is perfect organization here. It is literally very nice third place for me. Perfect atmosphere, great fight. There is nothing to add. Someone might say it is "only" third place, but it's not like that. The pace was very fast and differences in seconds only. I have to say that I'm satisfied with my drive as we drove really fast. Rally Bohemia is in terms of organization matter well above standard in the Czech championship. This race is just something else."