Vinec and Sosnová is left to the end of leg 1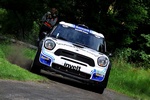 Big fight flared up at the top of overall classification of the 40th Rally Bohemia, but there are fights in other classes too. 
Participants of the 40th Rally Bohemia have passed eleven special stages in total already. Big fight rages at the top of overall classification between the crew Roman Kresta – Petr Gross driving Škoda Fabia S2000 and Václav Pech jr. – Petr Uhel in MINI John Cooper Works S2000. These drivers have alternated 2nd and 3rd position several times and the difference is only 2.9 seconds. Spectators are watching very likely the most dramatic duel at the initial part of the competition since the beginning of season. These two are very close to the leader, Jan Kopecký – Pavel Dresler in Škoda Fabia S2000. The difference is only 18.6 seconds, which definitely isn't a time long enough for resting. Kopecký with Dresler have so far six winnings. Two winnings have both crews Roman Kresta with Petr Gross and Václav Pech with Petr Uhel.
Fourth place is taken with nice drive so far by Jan Sýkora with Martina Škardová driving Ford Fiesta R5. Breathing on their back is Jaromír Tarabus with Daniel Trunkát driving another Fabia S2000. Slovakian talent Martin Koči navigated by Lukáš Kostka also drives very good holding sixth place. The fastest in the group of production cars is Vojtěch Štajf with František Rajnoha behind the steering wheel of Subaru Impreza STi. Fight for victory in 2WD group is between crews Jiří Vrkoslav with Jiří Rada in Citroën C2 S1600 and very nicely driving Italian Elwis Chentre with Igor D'Herin in Škoda Fabia R2.
Participants of 40th Rally Bohemia after the visit in the Service Park will carry on to Vinec special stage, which is near Mladá Boleslav. For the finish of leg 1 will be taken care of by SS 13 Parallel Autodrome Show in Sosnová near Česká Lípa.
Jan Kopecký, after SS 11 on 1st place: "The pace is definitely very fast, but Rally Bohemia isn't that kind of competition, where we could risk like for instance in Hustopeče. It wouldn't be the best idea among these trees here. We are driving fast, but with some margin. We don't want to risk, because if someone goes off the road, it is usually into woods. No one wants that."
Václav Pech jr., after SS 11 on 2nd place: "It is good… (laughter). All is alrighty… (laughter). I don't like the taste of new tyres yet. I'm motivated to drive faster. Now, at this last stage, I didn't feel myself really, didn't like it much, yet we won it. We have to make some conclusion out of it. I have tried to drive differently and it was answered. Will see."
Roman Kresta, after SS 11 on 3rd place: "We are playing our cards. It's not 100% though. Václav has escaped a little and Jan is just ahead of us. Maybe I have driven the last stage a bit slower. I don't know. We like the fight. There is Vinec ahead of us, which isn't my favourite, it can be very tricky. Apart from this the race is par excellence so far. The differences are minimal, the pace is very sharp and even Honza Kopecký has to deliver his best to remain where he is now."
Jiří Vrkoslav, after SS 11 on 1st in 2WD: "I'm excited about my car. I sat in it for the first time on shakedown, where I was teaching myself how to drive it. I didn't have time for test. We want to use this race for our education and set symbiosis with this car. We have to increase speed steadily and to get used to the car, because it is totally different in comparison to Fabia in terms of driving behaviour. This car is ours and I don't want to hurt it. For now it's all white meaning we have no sponsor yet. I better quit watching the time results. I sense the boys have increased the pace, but I don't want to anymore."