Lead of Škoda – drivers comment on section 1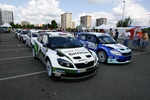 Leg 1 of the 40th Rally Bohemia is in progress since Saturday's morning. The crew of Škoda Motorsport team is taking the lead.
After six special stages Jan Kopecký with Pavel Dresler driving in Škoda Fabia S2000 have taken the lead of 40th Rally Bohemia. The competition is listed in FIA European Rally Cup (coefficient 10) and Mediasport International Rally Championship of the Czech Republic.
Beautiful sunny weather above Mladá Boleslav and Jablonec region is in favour of all participants of the rally. Spectators can see a dramatic scene at the top of starting field. The introductory part of the rally goes the best so far for Jan Kopecký and Pavel Dresler in Škoda Fabia S2000, who has taken the lead. Second place is held by Václav Pech jr. with Petr Uhel driving in MINI John Cooper Works S2000, losing 10.2 seconds on first. Third place owns the crew Roman Kresta with Petr Gross in Škoda Fabia S2000 with 13.6 seconds behind the leader. The big fight takes place also among front-wheelers. Surprisingly enough the crew Jiří Vrkoslav navigated by Jiří Rada is in the lead so far. They have introduced their Citroën C2 S1600 as the premiere and it draws great attention. Italian Chentre in Škoda Fabia R2 is by 23 second behind on second and third is held by Egon Smékal with Monika Hýbnerová in Citroën DS3 R3T.
There is a great number of spectators lined up along the special stages, who are very disciplined so far and who follow the organizers' instructions. We would like to thank all and wish valuable sports experience during watching 40th Rally Bohemia.
Jan Kopecký, after SS 6 on 1st place: "Rally Bohemia is demanding as every year. So far we have driven short stages, so the differences are small. That makes it more interesting for spectators, who enjoy tight fights. We are enjoying it too. We have escaped Václav by 10 seconds, but we know it means nothing. He is capable of pushing forward on another stage."
Václav Pech jr., after SS 6 on 2nd place: "I don't drive as good as on Rally Hustopeče. I didn't get used to new tyres and I don't certain. I make mistakes. Not that I wouldn't like the small time difference, it's just I don't have good feeling about my drive. I'm not going to make any changes to settings, it's just me. I have to start trusting new tyres more."
Roman Kresta, after SS 6 on 3rd place: "So far it is good. We have no major problem with us ourselves nor the competition. There is a lot of spectators along the track and make a nice atmosphere. Weather is nice and that's good. So far we are satisfied with beautiful race."
Jan Sýkora, after SS 6 on 4th place: "Second special stage went very well for us and we won it. Following stages were worse. Roman Kresta, Václav Pech and Jan Kopecký have made a little gap in front of us. They drive great and I still have some margins, mainly on wet in woods. I feel that we have improved since we changed from Mitsubishi, but I still don't use this car to its 100%."
Jaromír Tarabus, after SS 6 on 5th place: "This is very nice competition, but we make little mistakes. Car drives great, it's beautiful weather, so we want to enjoy it."
Roman Odložilík, after SS 6 on 7th place: "The result is the way I anticipated. But I have underestimated the test of new tyres and I still haven't found myself. Other guys drive in high tempo and I don't know, whether we can keep up. Will see if we can improve."
Vojtěch Štajf, after SS 6 leader of category 3: "The difference between production car and S2000 can be seen very clearly here. They all drive very fast and I thing that even Orsák with Semerád wouldn't be able to keep up with them, specifically on this dry surface. We don't have to get used to new tyres as we use same Pirelli tyre, only with two extra cuttings. I experienced a little crisis myself on SS Chloudov and also our brakes over-heat a little. So far the satisfaction is in place."
Václav Dunovský, after SS 6 on 5th place in 2WD: "We have had nice drive, but on the longest stage my brakes over-heated so I had to pump the pedal in advance. There we have lost a lot. But we are still in game and satisfied."