Leg 2 of started off into sunny day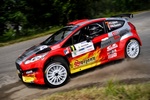 The final leg of the 40th Rally Bohemia has started off and no one can be certain of the results. 
Every automobile competition has its end in the finish and talking before that about anything related to results is very uncertain. There are fights going on at special stages Sychrov and Pohoř and passage through the longest stage leading from Sychrov into Malá Skála in the length of almost 28 kilometres can bring some changed in overall classification.
The crew from the factory's Škoda Motorsport team, Jan Kopecký – Pavel Dresler, driving in Škoda Fabia S2000 is still in the lead of overall classification increasing its head start to 21.2 seconds. They have won both special stages and escaped their competitors a little. The crew Václav Pech jr. – Petr Uhel in MINI John Cooper Works S2000 still doesn't want to put up with second place, but on the other hand they might be busy keeping it from Kresta with Gross. Roman Kresta with the matador from Mladá Boleslav, Petr Gross, driving in Škoda Fabia S2000 have pushed forward at Sychrov, managed the second fastest time behind the factory's guy Kopecký. They closed in behind Pech with Uhel decreasing the gap to 8.3 seconds. Also the crew from Ford Fiesta R5, Jan Sýkora – Martina Škardová, slowed down a little and Tarabus – Trunkát in Škoda Fabia S2000 got closer to 10.6 seconds.
There have been an accident of Jan Dohnal – Jakub Venclík driving in Peugeot 207 S2000 at initial stage of leg 2. Their car got off the track damaged, but fortunately no one got hurt.
The fights are taking place also among the members of 2WD group. Leading crew Jiří Vrkoslav – Jiří Rada in Citroën C2 S1600 are slowed down a little and other competitors are slowly closing in. Second crew Chentre with D'Herin in Škoda Fabia R2 are behind them with 13.4 seconds gap. Crew Smékal – Hýbnerová in Citroën DS3 R3T are speeding up and is behind second by 0.9 seconds. There are five crews of front-wheelers in total, all within one minute. It is promising very dramatic fight all the way to final.
Participants of 40th Rally Bohemia memorize today the anniversary of the tragic accident, which caused Rally Bohemia to be ended early, and during which died the co-driver Bohuslav Ceplecha. Honouring his memory.
Jan Kopecký, after SS 15 on 1st place: "We take it easy, no flat-out drive. I participated in Rally Bohemia only a few times and I drove special stage Sychrov in this direction probably only once in 2006. SS Pohoř was new for everyone. I have fixed quite a lot of things in pacenotes, but despite this we have won both stages. The car works great, we just have to tune the settings of underbody for new tyres."
Václav Pech jr., after SS 15 on 2nd place: "Before this last stage Sychrov we have hit the speed calming chicane made out of straw bale, because it was placed in wrong position unlike the layout in road book. Front part of our car is lightly damaged, but what makes me even sorrier is the fact, that thanks to the mistake of someone else we have lost some time there. I had to start the car and accelerate again and then the following drive to finish sucked. But we will keep on fighting."
Roman Kresta, after SS 15 on 3rd place: "First stage in the morning didn't go well, so I pushed it a little bit more on Sychrov. But it was no attack. In my opinion cards are dealt already. We are driving very fast and even the head start of 10 seconds is a lot. The pace is very high and it has to be distributed uniformly over thirty kilometres long stage also in the sake of tyres. We drove steadily and the result is there. Between us and Václav is a gap of 8.3 seconds, but he won't leave it that way. Will carry on driving the same style. I won't risk anything."
Jan Sýkora, after SS 15 on 4th place: "The first stage in the morning wasn't that bad, but now at Sychrov I was afraid of melting the breaks, so I drove a bit slower. We have to speed up again on Sychrov, our competitors are closing in. But if they overtake us, then they will be ahead of us, it doesn't bother me."
Jaromír Tarabus, after SS 15 on 5th place: "We are satisfied. We got better yesterday afternoon already. We are closer behind Honza Sýkora, so we will see. He will certainly watch his back, so I believe the best of us wins."
Vojtěch Štajf, after SS 15 on 1st place in production cars group: "We have checked the list, because Pohoř is a new SS, and Mifka was faster than us. I've tried to speed up at Sychrov, but our rear self-locking differential broke and our car behaved unpredictable. I was praying for getting to finish. The car deserves larger refurbishing."
Jiří Vrkoslav, after SS 15 on 1st place in 2WD: "We are driving cool having the tempo chosen more carefully as we said yesterday and it turned out to be working out. I was afraid of the longest test because of breaks, but they are all right. There surely are some margins, but as once said Emil Triner the gas can be stepped on, but it also can break down."
Václav Dunovský, after SS 15 on 4th place in 2WD: "We have just managed to win SS Sychrov, which is my most favourite, it's the matter of my heart. I like how long it is. On the contrary I think that we drove better and more precisely on Pohoř, but we still dropped down by a few seconds. We have tried to pass Sychrov steadily and it seemed to work. We will see whether we can skip forward, but I'm not sure it is still possible. We have changed to new tyres in the front and I think we can't speed up much more."