Leg 1 of Rally Bohemia successfully in finish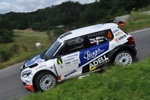 Jan Kopecký with Pavel Dresler driving in Škoda Fabia S2000 are leading preliminary classification of the Rally Bohemia. Tough fights behind their back are taking place.
Last two special stages of the 40th Rally Bohemia named Vinec and Parallel Autodrome Show haven't brought many changes to the ranking of the competition. On the other hand they have brought another very dramatic show for spectators lined up along the track in thousands. Beautiful summer weather ruled above Mladá Boleslav region. We would like to thank very much all spectators, who visited 40th Rally Bohemia today and behaved respectfully.
According to the estimation of the organizer around five thousands spectators have visited special stage in Sosnová creating wonderful background for participating crews of both groups of modern cars and historic cars of Rally Bohemia Legend. Václav Pech jr. driving MINI John Cooper Works S2000 navigated by Petr Uhel have won today's last stage. But even this partial winning wasn't enough to overtake the fastest crew of 40th Rally Bohemia, Jan Kopecký – Pavel Dresler driving in Škoda Fabia S2000. They created a gap of 11.3 seconds ahead of the second crew even with gained 5 seconds penalty for touch with speed calming chicane. They will start off into leg 2 of the competition in the role of the leading crew gaining bonus points for victory in leg 1.
Václav Pech with Petr Uhel managed to increase head start on Roman Kresta with Petr Gross driving in Škoda Fabia S2000 to 8.4 seconds. Fourth place belongs to Jan Sýkora with Martina Škardová in Ford Fiesta R5 and fifth to Jaromír Tarabus with Daniel Trunkát in Škoda Fabia S2000. 2WD category is led by Jiří Vrkoslav with Jiří Rada in Citroën C2 S1600 performing very nice drive and having a gap of 26.3 seconds ahead of Smékal with Hýbnerová in Citroën DS3 R3T. Third place among front-wheelers is taken after excellent performance by Italian Elwis Chentre with Igor D'Herin in Škoda Fabia S2000.
The fight for seconds will carry on in leg 2 with five special stages. The first one is SS Pohoř, which has come after decades back into the time schedule of Rally Bohemia. After reconnaissance drivers have commented it very positively, to be very nice and in terms of driving very demanding stage. SS Sychrov will follow, which with its length of 27.76 kilometres is the longest SS of the competition. The grand final will be again under the rule of SS Staroměstská in Mladá Boleslav, where only shortly after finish the Closing Ceremonial takes place there. Cups will be given to the fastest of 40th Rally Bohemia.