Rally Bohemia (Czech Rally Championship) after the first Section
Press Release No. 19
The crews of contemporary cars of 42nd Rally Bohemia have also completed the first section of special stages. The leading position has been taken by the pair of Škoda Fabia R5 cars belonging to ŠKODA Motorsport Team.
Since the beginning of the competition, a very close fight for the leading position has been going on between both the crews of ŠKODA Motorsport Team, Jan Kopecký – Pavel Dresler and Esapekka Lappi – Janne Ferm. Jan Kopecký succeeded in winning the first three special stages; Esapekka Lappi returned the defeat to him in the last special stage of this section Bzí. Overall after four SSs Kopecký is in the lead ahead Lappi by a mere one second.
The third place with the loss of seventeen seconds is occupied by Václav Pech – Petr Uhel in Mini John Cooper. Rally Bohemia is turning out well for Jan Dohnal – Jakub Venclík in Ford Focus RS WRC, who are holding the forth place. Not far behind them, though, in further eighteen seconds Roman Odložilík, Pavel Valoušek and also Štěpán Vojtěch from Liberec are piled up. Štěpán Vojtěch has come back to the tracks of Rally Bohemia after five years and behind the wheel of Peugeot 206 WRC after ten years. The eighth position is held by Jan Sýkora with Ford Fiesta R5.
We asked the first three crews about their feelings on the regrouping in Mladá Boleslav:
Jan Kopecký: "We have been winning, so our feelings about the first four special stages are good. Our lead has been only a second by now, but I know that I wasted a second sliding on the last barriers. I got there too aggressively; we went into too big skids, which, on the other hand, resulted in my getting a better control of the car. Before the second section, our fight with Lappi is starting from zero again. We have almost the same setting; there are only tiny differences, which lie in our individual setting of details based on our driving styles. And whether we are preparing an attack in the second section? I think that Esapekka will also fly pretty fast; he has nothing to lose, so he will try to outstrip us. Contrary to us, he is not going to gain points in the Czech championship, which we have to remember all the time – we wouldn't like to make a silly mistake."
Esapekka Lapii: "It's a nice fight with Honza. Everything is going well."
Václav Pech: "It's a fast drive. We failed Šumburk where I was driving too slowly and carefully. It did not suit me. The second section will be very fast, I am sure, so we will also do our best. Simply, we'll see how it will turn out."
Now the second passes of the special stages Sychrov, Šumburk and Bzí are before the crews of 42nd Bohemia Historic, they will take place partly at night. The night servicing in Mladá Boleslav will follow.
All the information on this year Rally Bohemia can be found on the official competition website www.rallybohemia.cz. The traditional general partner of Rally Bohemia is ŠKODA AUTO.
Rally Bohemia can be also found at social network.
Facebook: www.facebook.com/rallybohemia
Twitter: twitter.com/RallyBohemia
Youtube: www.youtube.com/user/RallyBohemia
Instagram: instagram.com/rallybohemia
Download
Press Release no. 19 (PDF 745 kB)
Gallery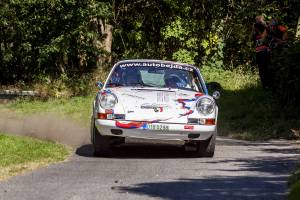 ---
2015-07-11 [151]